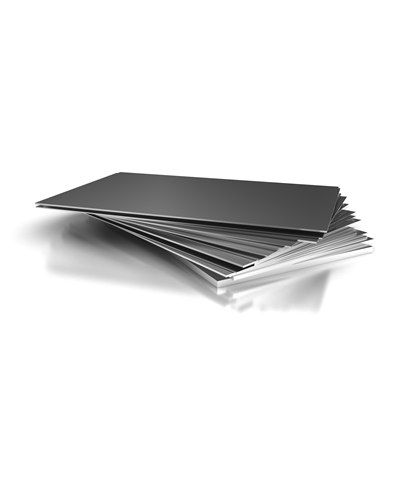 EN AW-5005
1 x 1250 x 2500 mm
Nature Anodized 10 µ - Foil
Surface treatment
Nature Anodized 10 µ - Foil
Corrosion resistance
Good
We stock a wide range of anodised plates in standard thickness between 1 mm and 3 mm. Our standard range features the most popular μ- thickness without colour, but do you request colouring or another thickness - you are welcome to contact us.
EN AW-5005
It is good for machining and bending and has a high corrosion resistance and good for welding.
The alloy is well suited for decorative anodizing, but the colour may vary.
It is possible to get specific products for high quality facades.
We are not liable for items out of stock. The specified weight is theoretical. Please contact us if you have any further enquiries.
Alloys
Density
Si
Fe
Cu
Mn
Mg
Cr
Zn
Other
Name
g/cm3
Max
Max
Max
Max
Min
Max
Max
Max
Max
EN AW-5005
2.7
Al
0.3
0.7
0.2
0.2
0.5
1.1
0.1
0.25
0.15
Properties
Thermal conductivity
Coefficient of thermal expansion
Melting point
Elastic modulus
Electrical conductivity
Alloy
Temper
W/m*K
µm/(m*K)
min °C
KN/mm2
%IACS
EN AW-5005
Hx2
201
23.5
630
655
69
52
EN AW-5005
Hx4
201
23.5
630
655
69
52
EN AW-5005
Hx6
201
23.5
630
655
69
52
EN AW-5005
Hx8
201
23.5
630
655
69
52
EN AW-5005
Hx9
201
23.5
630
655
69
52
EN AW-5005
O
201
23.5
630
655
69
52
Mechanical properties
Tensile strength (Rm) MPa
Proof stress (Rp0,2)
Brinell Hardness
Thickness interval
Elongation A50mm
Bend radius 90°
Bend radius 180°
Norm
Alloy
Temper
Rm N/mm2
MPa
HBS
mm
% min
t
t
EN 485-2:2008
EN AW-5005
H14
145
185
120
48
0.2
0.5
2
0.5
2
EN 485-2:2008
EN AW-5005
H14
145
185
120
48
0.5
1.5
2
1
2
EN 485-2:2008
EN AW-5005
H14
145
185
120
48
1.5
3
3
1
2.5
EN 485-2:2008
EN AW-5005
H14
145
185
120
48
3
6
4
2
-
EN 485-2:2008
EN AW-5005
H14
145
185
120
48
6
12.5
5
2.5
-